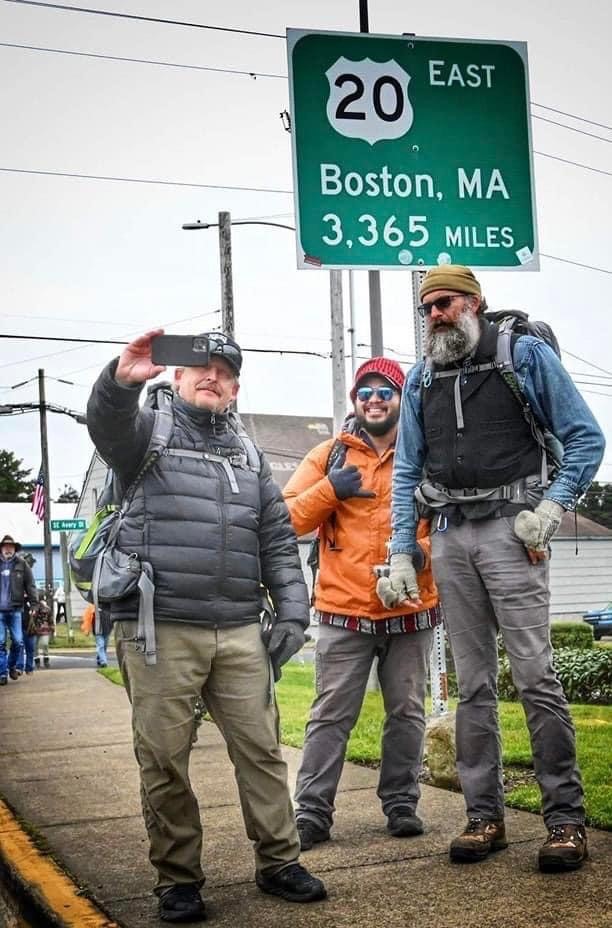 On 17 December 2022, Team Long Road completed their epic 3365 mile journey across America from Boston Massachusetts to Newport Oregon!  The team covered 20 miles plus per day for over 6.5 months, all while carrying 40lb rucksacks through 12 different states for in honor and remembrance of our nations Prisoners Of War, Missing and Killed In Action and their Gold Star Families.
On 6 June 2022, Justin "JD" LeHew and Coleman "Rocky" Kinzer, both retired USMC SgtsMaj, set off on a cross country journey across America; from Boston, Massachusetts to Newport, Oregon in support of America's Missing and Killed In Action from all wars and conflicts, Gold Star families, as well as highlight numerous other great charitable causes in support of helping and continuing to give back to others from all walks and challenges of life.  On 18 August 2022, they were joined in Elgin, Illinois by Marine veteran, SSgt Raymond Shinohara, who served with both JD and Rocky during their time in the Marines.
JD and Rocky collectively served in the United States Marine Corps for a total of 56 years on active duty and are two of America's most highly decorated combat veterans who have served since the end of the Vietnam War.  They have been working together for years, not just in uniform, but also outside of it as they have been circumnavigating the globe in the search for America's missing and killed in action since departing the active ranks of the US Military, investing their own money in the search and recovery of our nations lost heroes.  Now with the addition of another highly decorated Marine, 11 year Marine Corps veteran Ray Shinohara, the three Marines together are continuing this epic journey across America to spread the word of the plight of our nations missing and killed in action as well as reinforce the principle of never leaving a fallen comrade behind and I am my brother and sisters keeper
This journey began at the USS Constitution in Boston Harbor on 6 June 2022 and ended in Newport, Oregon on 17 December 2022.  The route selected was the historic US Route 20, America's longest Highway.  This specific road was selected to highlight the long journey home that over 81,000 missing US Servicemembers have been trying to make since World War Two.  It also represented America's longest wars in Afghanistan and Iraq and the men and women who fought there.  It has been more than 20 years since 9/11 happened thrusting America into war; Highway 20 is our tribute to all those who served and sacrificed so much in the service of this nation, both past and present.   The USS Constitution was selected as the journey start point to honor our Naval traditions and service to this nation as Marines.  The 40lb rucksacks we carry represent the heavy burden carried by generations of warriors who have served in our nations ranks since 1775 as well as the weight of a nation that we carry in combat to live up to the promise that we will never surrender and never leave a fallen comrade behind.  It was our honor to complete this part of the journey but the road, as well as the mission, continues…stay tuned for Team Long Road 2.0, continue to follow on Facebook and we ask for your continued support and donations to the mission of finding the fallen…because it matters.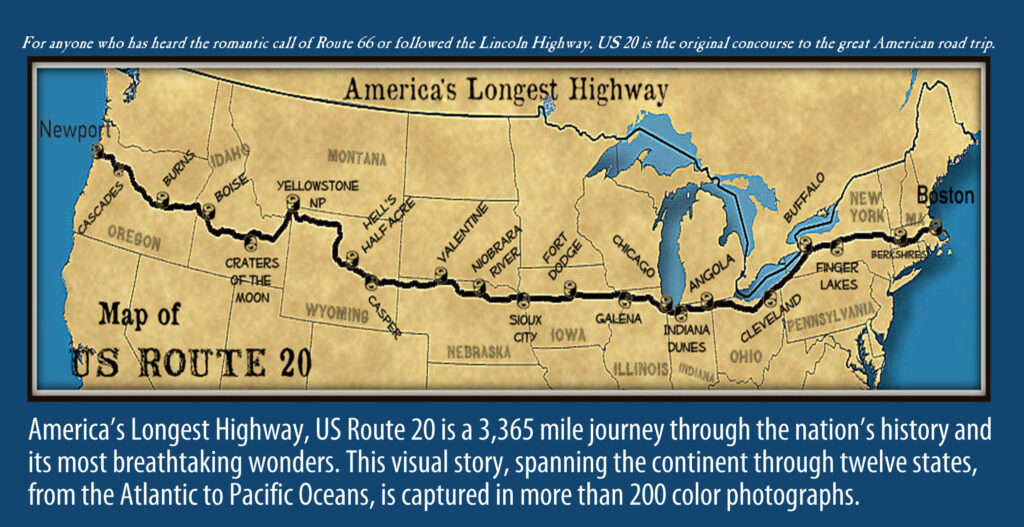 Follow Us On Facebook For Updates